Discover more from Dwell & Drizzle
The nexus of housing, climate, activism, Toronto life and politics -- and wherever Diana ends up and spends time.
No. 11: Housing & World-Building.
The environmental impact of demolitions (and demovictions). The meaning of Miigwech. #TOMayor2023 housing platforms.
Hello humans and highland cows (you can vote to name the new baby at the High Park Zoo),
Right now, I'm reading Rehearsals for Living by Leanne Betasamosake Simpson and Robyn Maynard. The title is based off of Ruth Wilson Gilmore's definition of abolition as "life in rehearsal because freedom is a place." Powerful stuff.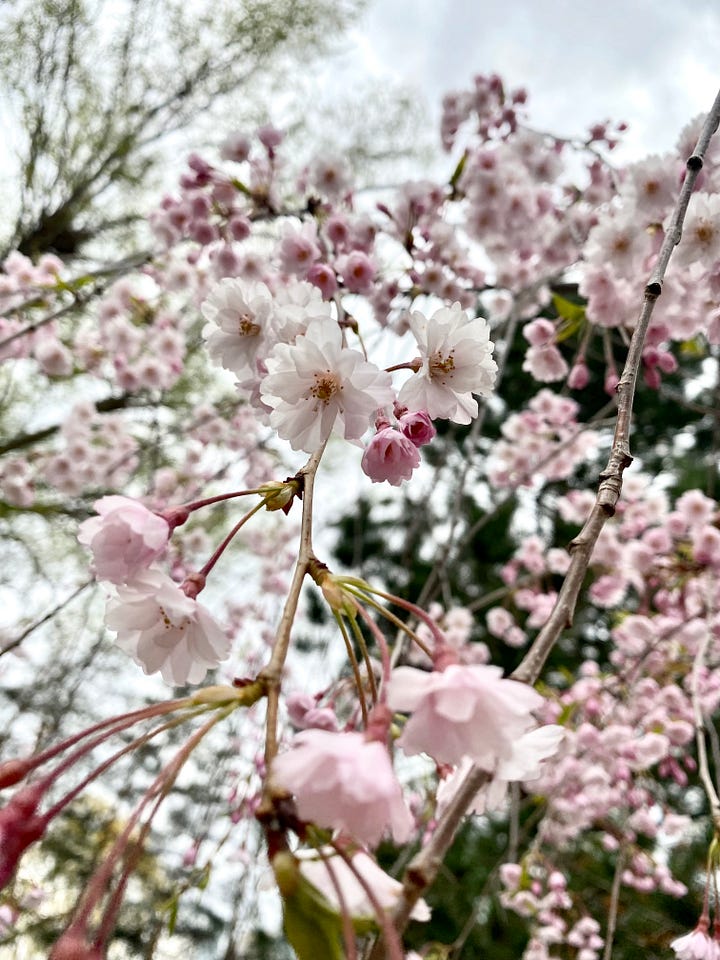 At the end of the book, Leanne writes a beautiful excerpt of gratitude to Robyn:
Miigwech, my friend. In my language that is often translated as "thank you." Miigwech comes from the verb miigiwe, which means "to give." For Nishnaabeg, miigwech isn't a thank-you; it is a start to gift-giving. It is a commitment to give to others what has been gifted to you - whether that is presence and time, physical or emotional labour, material goods, spiritual energy, care or kindness and solidarity. Miigiwe is relational. (Rehearsals for Living, page 263-264).
This brings so much context to "miigwech", which I feel like is one word that non-Indigenous people who try to be good allies (including myself) have learned and throw around as easily as we say "thanks" without meaning it at the end of an email sign-off.
Leanne goes on to reflect on the gift-giving Robyn has done through the letters they've sent each other, living with reciprocity at the end of the world. This book was a beacon of hope, a critical look at what it means to have deep relations with one another, and an intimate look at Black and Indigenous people's intertwined lives. It gave me a lot of perspective, and I hope my thanks can continue by finding ways to fight for abolition and a better world.
April 29 @ 1PM | 55 Brownlow Ave, Toronto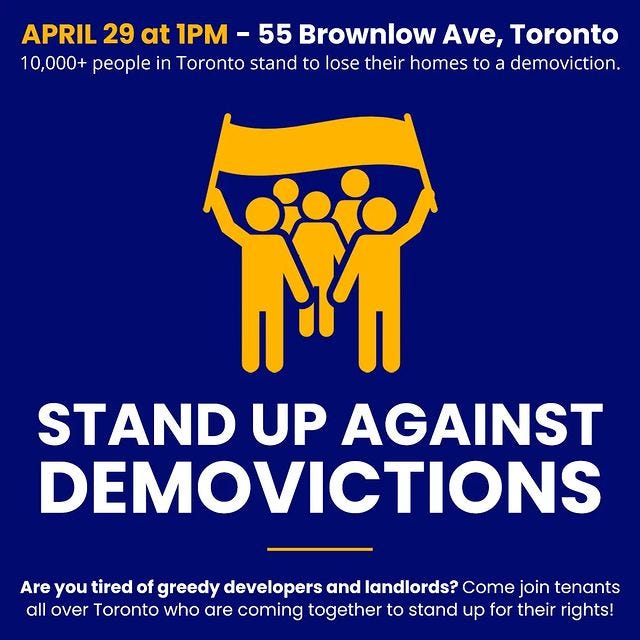 For this edition, I focused heavily on the state of our existing affordable housing and buildings in general. There are two main reasons I'm focusing on this: the No Demovictions Rally happening this Saturday, April 29 AND I've quit my job at Toronto Community Housing Corporation for another exciting opportunity (announcement TBA on new gig).
In particular, I'll speak to the environmental impact of demolition at the rally. Killing two birds with one stone (I hate this saying), I figured I might as well write about it here. BUT I'll still see you there, right?!
To quickly touch on my new career move, TCHC has been a really big learning opportunity. I've learned a lot about the intricacies about social housing locally. It matters to have people who care deeply about a tenant-first approach to this work to improve the lives of 100,000 tenants. But it was deeply upsetting to see preventative maintenance fall through the cracks and quality of life issues brought up constantly by tenants I engaged with. Maybe with some time to decompress and reflect, I will write more in a future issue about social housing.
---
HOUSING & CLIMATE JUSTICE
aka why can't we have nice things
As I mentioned above, I'll be speaking at the No Demovictions Rally this Saturday. This coalition/community group is made up of multiple tenant unions and residents, who are collectively organizing to save their apartment buildings from demolition and protect tenants from displacement.
It is completely unacceptable that this building and tenants in over 73 other buildings are getting displaced by building demolition, and even more are getting renovicted (i.e. evicted via process of renovating buildings/units and then increasing rent, selling the property, other ways to prioritize profit over people).
This is also happening in other cities and other countries. I found these two podcasts valuable to gain some perspective on other jurisdictions for a urban problem:
As you know, I work professionally at the intersection of climate mitigation and affordable housing. SO what is the primary reason behind these demolitions, especially of perfectly decent buildings? Without any regard for people or the planet!? It's for profit. It's to create a larger building with more units, to sell more condos or collect more rents.
And you may hear that the new buildings will be better for the environment. This is a trap! It is not just about the OPERATIONAL emissions of the building and ongoing utility use. Existing buildings have tons of EMBODIED carbon. A study in the UK found that the embodied carbon associated with the construction of a typical new building can be equivalent to 20 years worth of its operational carbon emissions.
We need to push back against any narratives that say that the newer buildings will be more energy efficient and environmentally friendly. To reiterate, buildings that have already been built have locked-in embodied carbon, which is wasted every time they get knocked down to be rebuilt. Cities are behind on calculating the embodied carbon through a lifecycle analysis – demolition contributes to environmental pollution and waste. EVERY building creates emissions through its construction materials - steel, cement, brick, glass, aluminum, plastic… A building that is demolished and rebuilt creates those emissions twice. An Ontario study also found that embodied carbon intensities also increase with building height due to increased material per area.
The City of Toronto's TransformTO net-zero strategy is supposed to evaluate and limit the impacts of embodied carbon in construction (page 10); but it fails to mention the impact of demolition. Moreover, Toronto's Existing Building Strategy also speaks to the importance of embodied emissions as a climate solution (page 30-31). It unfortunately only mentions that embodied emissions are generated during building end of life (demolition and disposal), without taking on any city responsibility for how to curb these embodied emissions.
We can shift the culture around this. We can retrofit buildings to be more climate resilient and accessible. Refurbishment is possible and less disruptive to people's lives! If there are capital repair issues at this building or in other buildings, companies cannot just be given free will to knock it down. 
No demovictions! Tenants deserve better. Our future depends on it.
---
TORONTO
activism, politics, whatever else
Bold leadership for Toronto on housing must put those in need first, assess proposals through a health equity lens, take responsibility rather than passing the buck, and set and meet targets that will end homelessness. (Wellesley Institute, April 2023)
Housing seems to be top of mind as well for the mayoral hopefuls. It has been one of the first areas that top candidates seem keen to put out policies and programs they would implement.
In no particular order, here is where you can find some of these platforms:
Although this is by no means an endorsement or even a detailed analysis of each platform, here are a few things that stick out to me.
Olivia Chow's focus on the Vacant Homes Tax makes a lot of sense to me. It is a new program, of which the revenues were earmarked for a vague "affordable housing initiatives". Tying some specificity into this could result in efforts by the next Mayor on how to make this fund most impactful.
I'm most keen on Josh Matlow's Public Build announcement because I believe our governments should be supporting and building non-profit, co-operative, and public housing. Similarly, the Star's Edward Keenan writes:
Matlow is suggesting cutting out the math of the private sector partners, and building the affordable and deeply affordable units we need ourselves.

Or, at least for now, planting the seeds and hoping other levels of government will help tend that garden with us once we get going. That last part may yet prove to be an unsolvable problem for Matlow's plan. It's hard to tell from here.

It isn't the scale or scope of Matlow's initial proposal that makes it feel noteworthy. It's that a credible candidate for mayor is proposing getting the government back into the business of building public housing.
Finally on this topic, I have to say, I'm extremely opposed to Chloe Brown's push for "sleeping pods and modular housing" as the solution for homelessness. Modular housing can be good and the City is moving forward with this at a number of sites, despite opposition. BUT sleeping pods are not a dignified solution. Sorry to cite Fox News, but Portland is considering these sleeping pods in order to "ultimately ban homeless camping in all public spaces".
I am open to changing my mind on this, if it got the green light from anti-poverty and underhoused advocates like the Shelter & Housing Justice Network. For now, I remain skeptical.
---
To end off, I've had a couple people ask me what I do for fun recently….
I bought a keyboard and I'm learning piano (I played the flute growing up, so I can read sheet music for the treble clef but not the bass clef). I tried to make things from air dry clay, but it frustrated me. I spend way too many hours in meetings with Climate Justice Toronto, but it feels important to be part of a collective body organizing and engaging with politics of class struggle and solidarity with other social movements (e.g. come to the next Socialist Night School on May 25 where we are discussing Matt Huber's Climate Change as Class War". And my partner and I really like craft beer, so we have explored many neighbourhoods just because there was a local brewery there.
And I do watch a lot of bad television. In particular, I'm a bit obsessed with Survivor the TV show (yes it is still airing, yes this is season 44). I got to meet Toronto's very own, Survivor 41 winner, Erika Casupanan a few weeks ago at a watch party and fundraiser for Trans-specific programming at the 519. She wrote a heartfelt article on the challenges of not being seen for who she really was on TV, and how that can be the case for other marginalized folks.
I survived more than a game. I survived my image being dissected by millions of people. After emerging from the house of mirrors, I see myself more clearly than ever before.
Thanks for reading Dwell & Drizzle! Subscribe for free to receive new monthly posts & support my work.
I'm off to see the baby highland cow and cherry blossoms now. Have the most lovely weekend!
Cheerio,
Diana